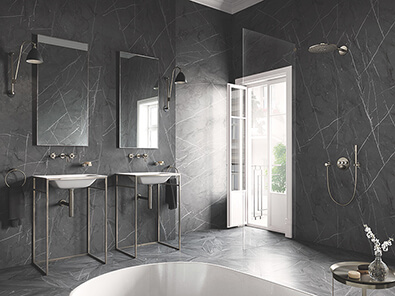 LUXURY OUT OF TIME
For those who embrace an elegant lifestyle and aesthetics of the past, yet expect impeccable functionality and a user experience that matches today`s technology, GROHE Atrio will find their ideal. The sophisticated silhouettes of the new GROHE Atrio taps create a timeless aura in the bathroom, combining these wishes. The hand-crafted surfaces and the engineering professionalism that each Atrio faucet uses will bring a tangible element of luxury to a classic space.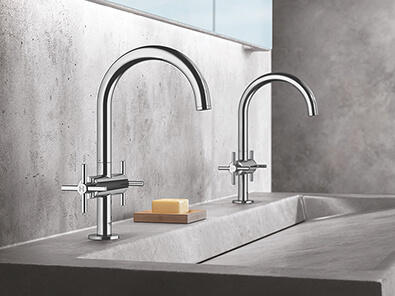 SIMPLICITY IN EVERYTHING
The GROHE team is convinced that the strongest trends have a great deal of durability, which is why the new GROHE Atrio collection is not only quality but also uncluttered. The silhouette of the new Atrio faucets, captivating with its simplicity, blends naturally with minimalistic surroundings and represents a promising aesthetic ideal for adding a positive accent to cosmopolitan bathroom décor. Due to the fact that the design of Atrio faucets is based on the simplest and most elegant geometric shape of a circle, you can be sure that even years later they will look just as flawless and relevant in the interior as they do today.